OUR TEAM…
MIKE COBB CREATIVE works with a team of skilled, proven professionals in the areas of graphic design, web site development, printing, and photography. MCC has a close, on-going collaboration with web developer Maurice Green of Zayda Productions.
MIKE COBB
…founded MCC (originally, Mike Cobb Associates) in 1983. He combines very strong talents in both writing and graphic art/design with long experience in marketing and marketing communications. He has more than 20 years of experience in high technology, from engineer, to marketing manager, to senior corporate manager responsible for corporate marketing communications. He holds B.S. and M.S. degrees in Engineering from U.C. Berkeley, is a licensed professional engineer in California, and has an MBA degree (marketing/advertising) from Santa Clara University. Mike has a unique ability to transform technology information into clear, effective language.  A political cartoonist, he also is expert in the application of cartoons to advertising and communications. A former corporate real estate/facilities manager and city planning commissioner, he has a real understanding of commercial/residential real estate.  And, as a former three-term Palo Alto city councilman (and two-time Mayor) and award-winning host of a cable channel news program, he is also very strong in the areas of community/public affairs, public policy, and public communications. A solid, successful track record with professional and general business clients completes a proven capability to effectively and insightfully serve a wide range of markets.
MAURICE GREEN, Ph.D.
(Zayda Productions)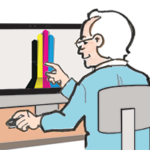 …combines three  core skills — technical knowledge in computers and programming, an appreciation of the finer points of design, and an understanding of marketing techniques — needed to develop a winning website and online presence.  After a long career in engineering, science, and medicine, Maury returned to his love of the visual arts and started an agency for website development and video. His website capabilities range from simple HTML sites to complex content management systems like WordPress, including social media and SEO. His videos have been featured on local media channels.  He has taught college courses in both website and computer design and has developed and hosted a number of websites for community and non-profit organizations and local political candidates.